Welcome to the
Welcome Wednesday Blog Hop
, hosted by
Take It From Me
!
Welcome Wednesday
is a great way to meet new people and learn new things as well as
increase your blog followers
! So let's have some fun!!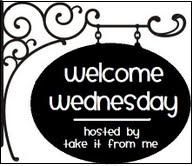 If you want to be a part of Welcome Wednesday, just follow these 5 simple steps:
------Blog Spotlights of The Week-----
1.) Nancy from

Finding Blessings in Everday Life

writes: "I am a Mommy to 3 ranging in age from 15 to 3. Yes, a high schooler and a preschool with a forth grader in between. I am happily married. I work full time and enjoy blogging when I get to. I am currently doing product reviews and giveaways, however I am trying to pot mre deals and shoppings. I love blogging!"

&
2.) Jackie from

I Design

writes:"My name is Jackie and I'm a 20 something designer. I own a water jet cutting company with my brother where we cut everything from retail and restaurant signage to motorcycle parts, to custom glass art pieces to everything in between. My real passion is interior design and baking, which is why I decided to start my own blog. I love meeting new creative people and seeing what projects they've been up to....and I hope I inspire a couple as well :)"
GREAT SPOTLIGHTS!

Also, be sure to check out our own Take It From Me blog! We love to share our reviews and giveaways with everyone and keep checking back often because we will be continually adding some great gift ideas for this Valentine's Day! You can check out what we have so far by clicking under the Valentine's Gift Ideas at the top of our right sidebar!
Thank you for stopping by our blog and hop!



What's neat about our

Blog Hop

:


-Put the same linky list code on your blog and you'll have the exact same list!
- Your blog visitors can add their blog to your list and it will show up on Everyones lists!
- By adding your blog

YOU MAY BE RANDOMLY CHOSEN FOR OUR BLOG SPOTLIGHT OF THE WEEK

!!!!



**Leave a comment with your blog address and we will follow you back**