Welcome to the
Welcome Wednesday Blog Hop
, hosted by
Take It From Me
!
Welcome Wednesday
is a great way to meet new people and learn new things as well as
increase your blog followers
! So let's have some fun!!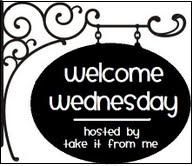 If you want to be a part of Welcome Wednesday, just follow these 5 simple steps:
------Blog Spotlights of The Week-----
1.) Jenilee from Six in The Nest writes: "My name is Jenilee, and I am the mother to six children all 7 years old and younger- 5 boys and 1 girl! I work outside the home as a CNA in a local nursing home, but I have my associate's degree in healthcare administration. I have been blogging since November of 2010."
AND
2.) Alissa

from

Rags to Stitches

writes: "First off, I'm so excited to be featured as part of Welcome Wednesday. I'm a WAHM, married to an amazing man, my best friend and love of my life and we have 2 beautiful children, Miss K, who is 2 1/2 and Buddy, who is 14 months. I'm a self taught seamstress and I love to sew. I was a teacher before I was a Mom and sewing helps me delve into my creative side. My

store

is filled with fun products for your baby and child and my newest favorite is my line of Hoots Boo Boo Bags. In between sewing I LOVE to blog. In fact I have 2 blogs I keep updated. Hope you'll stop by and follow Rags to Stitches. I'd love you to leave a comment if you do!"


WHAT GREAT SPOTLIGHTS!
Also, be sure to check out our own Take It From Me blog! We love to share our reviews and giveaways with everyone and keep checking back often because we will be continually adding some great gift ideas for this

Valentine's Day

!
Thank you for stopping by our blog and hop!



What's neat about our

Blog Hop

:


-Put the same linky list code on your blog and you'll have the exact same list!
- Your blog visitors can add their blog to your list and it will show up on Everyones lists!
- By adding your blog

YOU MAY BE RANDOMLY CHOSEN FOR OUR BLOG SPOTLIGHT OF THE WEEK

!!!!

**Leave a comment with your blog address and we will follow you back**

,
,&