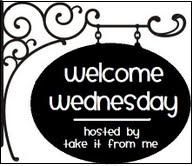 1.
Follow the Welcome Wednesday Host
(
Take It From Me
) as well as the 2 Spotlighted Blogs of the Week. (These will make up the top three slots on the Linky)
2.
Link up your blog name and URL
with our Linky. (You only need to add your info once for it to be seen on all the blog hops)
3.
Grab our Welcome Wednesday button
and include it in a post about the event on your blog.
4.
Go to as many blogs on the MckLinky as you want and Follow them. Be sure to
tell them you are from Welcome Wednesday
!
5.
Be sure to
Follow back any followers you have gained
from our
Welcome Wednesday
event!
------Blog Spotlights of The Week-----
1.)
Katie's profile from the
Not Just Decorating
blog says: "I am a stay at home mom who loves to decorate, cook and sew for my family and I wanted to share all my good and not so good ideas with you since I have found so many ideas out in blog land that have inspired me."
&
2.)
Confessions of a Paper-Crafts Chick
writes: "I'm the Paper-Crafts Chick and I enjoy making many crafty things: from soy candles to journals and notepads to greeting cards. I get a kick out of it and it's so much fun! The most exciting part is to watch the transformation of my raw materials - sheets of paper, embellishments, o-wire, glue and ink, somehow become journals and more. It's like water changing into ice. In additon to my crafts, I enjoy encouraging and motivating others with the Word of God. So, I figured, why not combine the two and incorporate the mighty Word of God with products that uplift, encourage and inspire. In my blog, you'll find posts that contain items that I've created and that are actually in my shop. You'll also find random d.i.y. crafts that I've tackled, and other creations that I've made just for myself. There are other days when there may be only an encouraging "Word" posted. My goal is to encourage you and share my love for God, His Word and paper-crafts with you... in my blog."
-Put the same linky list code on your blog and you'll have the exact same list!
- Your blog visitors can add their blog to your list and it will show up on Everyones lists!
**Leave a comment with your blog address and we will follow you back**