Welcome to the "
Welcome Wednesday
" blog hop, hosted by
Take It From Me
! Welcome Wednesday is a great way to meet new people and learn new things as well as increase your blog followers! So let's have some fun!!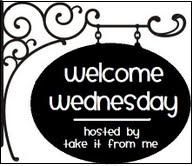 If you want to be a part of Welcome Wednesday, just follow these 5 simple steps:
1
. Follow the
Welcome Wednesday Host
(Take It From Me) as well as the
2 Spotlighted Blogs
of the Week. (These will make up the top three slots on the Linky)
2.
Link up your blog
name and URL with our Linky. (You only need to add your info once for it to be seen on all the blog hops)
3
.
Grab our Welcome Wednesday button
and include it in a post about the event on your blog.
4.
Go to as many blogs on the MckLinky as you want and Follow them. Be sure to tell them you are from Welcome Wednesday!
5.
Be sure to
Follow back
any followers you have gained from our Welcome Wednesday event!
------Blog Spotlights of The Week-----
"I'm a stay at home mom to a 7 month old little boy. I am a first time mother, a health professional, and a wife to my husband of 3 years (and high school best friend of 11 years)! I started blogging about motherhood not that long ago on my first blog,
The Hardest Job on Earth
, and then decided to make another blog
The Review Stew
because I loved reviewing products so much! I love learning about new products and sharing them with all my readers - especially healthy, natural, safe, and organic products for adults and children! I am doing a "Flee the Pee" cloth diapering event in June as I start the journey of cloth diapering my heavy-peeing son because I am tired of doing laundry! :o) Come join and enter some great giveaways!"
What great blogs! Thank you so much for sharing!
2)
Stacie
from
Simply Stacie
writes:
I currently live in NS, Canada and am the mom of 2 girls, age 5 and 11. I enjoy reading, writing, traveling, and of course, blogging!
Simply Stacie
is a Review & Giveaway blog featuring women's products, books and family friendly items. You can also find blogging tips and resources to help you improve your blog and grow your readership. Simply Stacie currently has a team of nine reviewers (4 product reviewers and 5 book reviewers) and reviews and giveaways are posted daily!
What's neat about our Blog Hop:
- Put the same linky list code on your blog and you'll have the exact same list!
- Your blog visitors can add their blog to your list and it will show up on Everyones lists!
- By adding your blog you may be randomly chosen for our Blog Spotlight of the Week!!!!